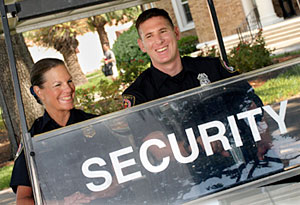 After Super Bowl 50, March Madness and with the 2016 presidential race continuing, event security is responsible for lots of sleepless nights among public safety officials these days. Whether or not your school, university or hospital ever hosts an event rising to the level of a National Special Security Event as designated by the Department of Homeland Security, today's societal realities require increased diligence and smarter risk management.
We have to change our mindset from one of denial, as in "it won't happen here," to one of preparedness. Institutions that do not have a comprehensive, proactive event security plan remain vulnerable and risk the subsequent fallout, including loss of life, litigation and public backlash.
Preparing for special events from a public safety and security standpoint adds additional complexity to ongoing campus security operations. But major events like VIP speeches and rock concerts are planned in advance, creating ample opportunity to prepare, explains Robert Connolly, chief of police for the Georgia Institute of Technology in Atlanta.
Last year, Georgia Tech hosted President Barack Obama in March and rock music legends the Rolling Stones in June. Based on his experience in security operations for such high-profile events as these, plus the 1992 Olympics and numerous Super Bowl and NCAA games over a 25-year career in law enforcement, Connolly says the fundamentals underpinning event security are having a plan and exercising that plan, because "words on paper have limited value if they aren't tested."
The Planning Never Ends
Security failures occur due to inadequate vulnerability assessments, poor planning against identified risks and lack of training and evaluation, says Jim Minninger, director of professional services for Integrated Security Systems in Harleysville, Pa., and a retired police sergeant.
"It's important to take an all-hazards approach to identify anything that can affect business [or campus] continuity," he says. "Crisis preparation is a living, breathing process that should never be static. Constant review and improvement is key, especially because the human element is the weak link."
The first few minutes of an emergency are critical in determining the outcome, so both onsite and offsite responders need to know what's happening, where it's happening, who it's affecting and what should be done in response. Human error can prevent fluid crisis response by impeding communication, which in turn leads to confusion, panic, delayed responses and costly mistakes. Such risks are amplified when hundreds — or thousands — of additional people convene for a special event.
Organizations such as the NFL and NCAA have very specific security requirements that their host venues must adhere to, as does the Secret Service if an event necessitates their involvement. They have developed detailed plans and protocols over time, and they continue to practice their skills and adjust their tactics accordingly.
For example, the Paris terror attacks in November have prompted police to change how they respond to an active shooter by "going forward" rather than standing back to negotiate. Washington, D.C. Police Chief Cathy Lanier said in a CBS interview that police departments are also now telling the public to "run, hide or fight" to increase the chance of surviving an active shooter. She acknowledged that's a big, but necessary, shift from the "don't intervene, call 9-1-1" mantra of days gone by.
"You can't be complacent," Connolly notes. "Security threats, tactics and technology are dynamic, so campuses have to change with them."
Therefore, you need to evaluate and test all of your regular security measures in addition to what is required for a special event. For instance, how will you credential media? How will you manage both vehicle and pedestrian traffic? What about transportation and parking? Are you equipped for medical emergencies? Connolly also stresses the importance of vetting and training event staff, volunteers and vendors.
"Communicate, collaborate and coordinate," adds Connolly. Hold regular meetings and work with other schools and law enforcement agencies in the region to share resources and best practices. But Minninger cautions against just cutting and pasting another institution's policies and procedures into your own organization's plans.
"Your security and emergency operations plans have to be specific to your campus and its unique characteristics and vulnerabilities, then evaluate their success by testing them and making necessary changes."
Table-top, functional and full-scale exercises should be part of training. Postevent reviews also are critical, according to Connolly. These will be required by the likes of the NCAA, but "any campus should make such after-action reports a standard practice."
Leverage The Benefits of Technology
Technology also plays a key role in security operations. The rise of social media, cameras and apps has made significant security enhancements possible in recent years, according to Connolly. In fact, he predicts that the traditional 9-1-1 call soon will be obsolete as the current generation relies so heavily on texting. Today's networks and devices — plus the software to tie all of them together — have indeed gotten smarter.
Think about all of the screens that surround us: the ones in our homes, office buildings, sports venues and transit lines. These powerful communication tools should be optimized for life safety and as part of normal campus operations, as well as to increase protections during special events.
Thanks to computer-telephony integration (CTI) and robust middleware, every alarm, sensor and communication end point can be unified to ensure that key individuals, select groups or entire populations are able to read, hear and see what's happening and do the right things in response, based on predefined protocols or modes and actions (i.e., if this, then that).Whatever the situation — from the mundane blown fuse to a life-and-death scenario — information about it must be conveyed in real time to those most likely to be affected, as well as the people responsible for investigation, containment and remediation. Integrating disparate alarm and communication systems provides end-to-end situational awarness, automating day-to-day security and emergency operations plans.
Such interoperability also means that legacy technology investments don't have to be ripped out and replaced. Controlling alarms and communication devices from a central point makes it easier and more cost-effective than ever to create a safety and security bubble over a single building or wide-area campus. Any threat or deviation from normal operations will trigger a real-time, detailed alert to onsite and offsite responders or other constituencies based on your predefined "if this, then that" scenarios.
Situational awareness like this creates time to prevent and/or respond to any number of potential threats. It also helps to reduce panic, confusion and communication breakdowns that can make the difference between life and death if an emergency unfolds. Remember, the human element Minninger mentioned as the weak link? This technology framework takes a campus and its emergency communications from reactionary and siloed to strategic and holistic through integrated alarm management and automated mass notification with built-in redundancy and escalation paths.
Personal situational awareness, as in "see something, say something," continues to be an important part of event security, and is often the first step in alerting first responders to a potential problem. Don't be afraid to call the police. Connolly encourages people to be "active fans" by looking out for themselves and their fellow spectators and community members.
"We'd rather people be proactive instead of passive if they see something suspicious," he says. "Even if it turns out to be nothing, we are happy to check it out. We want and need you to be alert."
Click here to view the article